We provide a full support service including:
Troubleshooting and fixing various computer problems

Your digital world should be seamless!
That's what we're here for. Dial a Nerd offers you a complete turnkey IT solution including repairs and computer sales, that starts with finding the right hardware and software to keep you going, and follows through with IT support and maintenance wherever you need it. Get in touch today and we'll get one of our qualified nerds to stop the digital planet from falling on your head.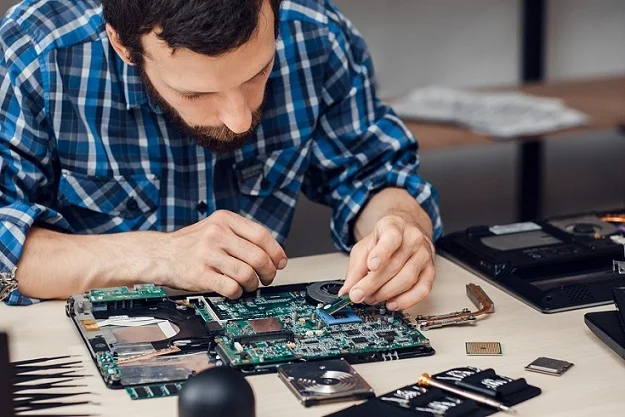 Common problems that we repair for our customers include:
1. Computers that won't start
2. "Blue screen of death" or system crash
3. Computers that run slowly or are slow at start-up
4. Computers that freeze or restart spontaneously
5. Slow internet, dropped internet or unreliable Wi-Fi
6. Overheating computers
7. Operating systems that act abnormally.
Don't bury your head in the sand
With computers, things can go wrong, fast. The worst case scenario is that your computer fails such that your data is irretrievably lost, or that recovery can be done, but only through a slow, complicated process. The best prevention is to act quickly when you first see signs of poor computer health. Addressing a computer that has a tendency to freeze now, can save you from having to deal with complete hard drive failure further down the road.

Time is money:
It's imperative that your computer equipment provides optimal performance and reliability. Inefficient or total failure of computer equipment is not only frustrating, but it can be very expensive in terms of time lost. As with many things, a small investment to keep your IT system healthy, can save you from expensive failures in the long run.
SLA and Priority Service:
We offer SLA (Service Level Agreements) or a priority service to get you or your staff up and running much faster than our standard first come, first serve system.
Sales - we find the right computer for you.
Finding a computer that suits your needs means getting the right combination of several components - solid state hard drive, graphics card, memory and processor. However how to balance which types of these items you need vs their cost is challenging. There is no one right answer for everyone, and your computer will only run as effectively as the slowest item dictates,
There is no point in buying a very fast processor if you don't get the right hard drive and memory to match it, or if what you have bought doesn't match what you want to use the computer for.
Don't guess and waste your money, let us make the right decision for you. We can advise and source the right computer for you and configure it so that it meets your exact needs right from the word go.